Topic: 20/11/11 - TV News Weekly Review #51 - The Weekend
Yes I know that there were no news for two months, this is my first weekend in over a month that I can spend in home. We are already thinking of a new, better way to bring you television news. Stay tuned.
TV News Song of the Day:
http://www.youtube.com/watch?v=9PCEp8z7FNg
- Renewed:

- Cancelled:

- Additional episodes:

- Episode cut:

Source's: 1, 2, 3, 4, 5, 6, 7, 8, 9, 10, 11, 12, 13, 14, 15, 16, 17, 18, 19, 20, 21, 22, 23, 24, 25, 26, 27, 28, 29, 30, 31, 32, 33, 34, 35, 36, 37
* - which added to 2 left over episodes from last season would make 15 episodes total for this season
Casting news:
- Maura Tierney will guest star in The Office, while Catherine Tate will return for a multi-episode arc. (Source 1, 2)
- Dan Byrd will guest star in Suburgatory,while Gloria Votsis joined the cast and Thomas McDonell will play in two episodes. (Source 1, 2, 3)
- Allison Munn, Scott Holroyd and Devin McGee will be back for the last season of One Tree Hill. (Source)
- John Francis Daley will crossover with The Finder. (Source)
- Dean Cain, Eric Roberts and Kristanna Loken will guest star in the finale of Burn Notice. (Source)
- Michael Weston will guest star in CSI:NY. (Source)
- Stan Lee, Tim DeKay, Bo Derek and Cheryl Ladd will guest star in Chuck. (Source 1, 2, 3, 4)
- Jason George will guest star in The Closer. (Source)
- Will Arnett will be back for an episode of 30 Rock, while Denise Richards and Mary Steenburgen will guest star. (Source 1, 2, 3)
- Charles S. Dutton and Bellamy Young will guest star in Criminal Minds. (Source 1, 2)
- Lizzy Caplan will star in three episodes of New Girl, while Rachael Harris and June Diane Raphael will guest star. (Source 1, 2, 3)
- Amber Benson and Gregory Harrison will guest star in Ringer, while Mädchen Amick will play a recurring character. (Source 1, 2, 3)
- Rose Leslie joined the cast of Game of Thrones. (Source)
- Neal McDonough, Carla Gugino and Mykelti Williamson joined the cast of Justified. (Source 1, 2)
- Anika Noni Rose will return for an episode of The Good Wife, while Amy Sedaris joined the cast of the show and Jennifer Carpenter will guest star. (Source 1, 2, 3)
- Rafi Gavron will be a recurring character on Parenthood. (Source)
- Ryan Phillippe, Jenna Elfman and John Hannah joined the cast of Damages. (Source 1, 2)
- Ken Marino will guest star in Happy Endings. (Source)
- Taran Killam will guest star in Community. (Source)
- Jamie Bamber joined the cast of Body of Proof. (Source)
- Hiroyuki Sanada joined the cast of Revenge. (Source)
- Billie Joe Armstrong, Aida Turtorro and Joel Grey will guest star in Nurse Jackie. (Source 1, 2)
- Titus Welliver joined the cast of CSI, as also Elisabeth Shue, who will replace Marg Helgenberger. (Source 1, 2)
- Mena Suvari and Kathleen Rose Perkins will guest star in American Horror Story. (Source 1, 2)
- Dorian Missick joined the cast of Southland, while Marla Gibbs will guest star. (Source,, 2)
- Jennifer Coolidge joined the cast of 2 Broke Girls. (Source)
- Burt Reynolds will guest star in Archer. (Source)
- Lucy Griffiths joined the cast of True Blood as a series regular. (Source)
- Barry Shabaka Henley will guest star in Fairly Legal. (Source)
- Megan Mullally joined the cast of Breaking In as a series regular. (Source)
- Stephen Amell joined the cast of Private Practice as a recurring character. (Source)
- Sean Astin will guest star in Franklin & Bash. (Source)
- Kevin Alejandro will guest star in Breakout Kings. (Source)
- Amy Acker will guest star in Grimm. (Source)
In other news:
- Showtime Premiere Dates For Shameless, Californication, House Of Lies and more!
- David Simon wants Treme to end after season 4. (Source)
- Community is having a break in airing and will return later in 2012, but we are told, that we shouldn't worry about it.
IMDb links will be added by my lovely co-ancor Spyder23.
And now, music, maestro!
+ show spoiler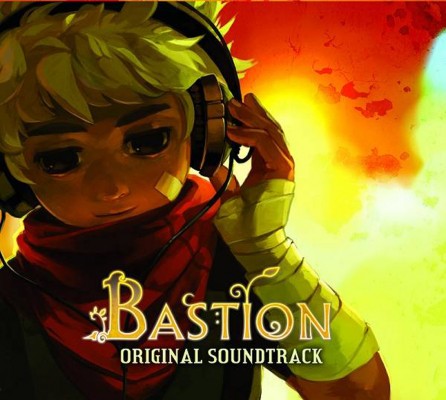 http://www.box.com/s/c8okjbg46zc11uy16vus
22 tracks
Genre: Soundtrack
Running Time: 60 minutes
Size: 143MB
320kbps
Bastion, released on Steam and Xbox Live Arcade ($15 USD on XBLA), is an amazing video game. While the artwork, music and gameplay all stand up very well on their own, the game's truly unique feature, reactive narration, ties it all together. The end result is a game that truly draws you into its compelling storyline and instantly connects you with its unforgettable characters.
Of course, this review is about the soundtrack. You get a glimpse of the narrator's charming voice and sense of style in the first track, "Get Used To It", and this makes a nice prelude to Bastion's excellent background music. The music ranges from simple, innocuous themes like "Twisted Streets", which accompanies you as you first begin to explore your shattered world, to the driving beat of the India-inspired "Terminal March", punctuating most of the fights with the game's bosses.
Each theme has a place, even if you've never seen or played the game. Feel the ground crumbling away beneath your feet in "Percy's Escape". Get lost in the Wild Unknown with themes like "Brusher Patrol" and "Slinger's Song". Or be touched by Zulf's sadness in "Mother, I'm Here" and the quiet introspection of the Ura in "Pale Watchers". There really is something for everyone in this album.
If you have an Xbox 360 or a Steam account and have not played Bastion, you owe it to yourself to experience everything this fine game has to offer. And in my opinion, this soundtrack is worth the $15 that Supergiant Games is asking for the entire game.